...We LOVE that Sound

-----------------------------

More "Power under the curve"

-----------------------------

Custom Wheels

-----------------------------

Derrick Rogers

Aaron Losey

Team Owner

James Evans

----------------------------

They are building a Fox body Mustang as a drift car, about time somebody did this. Check their site out for this and more muscle car coverage.

Howdy!

We don't drift professionally anymore, but we still drift for fun and at local events.

For information on local events (Texas mainly) -

The El Camino sits in a sad state- waiting for time, money & love:

Drifting my 1989 IROC Camaro with LS1 / T56 -

Drifting a Volvo with a V8 swap - and playing at a drift meet

Aaron Losey's Nissan S13 with LS1 / T56 swap

For Season Recaps from 2005 or 2004 (click the year)

or for photos and videos go here: Album
El Camino Paint Scheme Timeline:

2005 - we made it all season with one paint job!

2004: Frame straightened, front end replaced, repainted - all in 2 weeks to make the next event.

Ouch, New paint lasted 4 laps :(

Next time we'll go to the pits sooner to adjust the brakes.

2004: Looking pretty, should have known better than to paint it.

2004:Sponsors stickers for the Formula D Sonoma, helping us pay the costs to compete.

Original paint - hey, it was a low budget beater.
Special Thanks To:
Those at SlipStream, the other Formula D drivers and crew members (very friendly and nice), Alex at DailyDrifter.com, our sponsors, other friends that supported us and helped out, and all of our forum well wishers!
MISC STUFF
All Work Done safely - with the correct piece of wood holding the car up (here's Derrick welding on the gas tank, wishing he had a El Camino)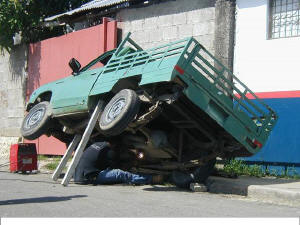 *this is a joke, we have more sense then this.
click for pages:
ALBUM - Photos and Videos of the El Camino (Drifting, Auto-x, Drag and Being worked on)
CONTACT - Contact Me
HISTORY - El Camino Information Page
MODS - MODS Done to my El Camino so far
LINKS - Automotive Links (drifting, auto-xing, drag racing)
Number of First Time Visitors to Website: